'Chip in for Mary Potter' Golf Day
Over the past six years the 'Chip in for Mary Potter' Golf Day has raised $594,227 to improve facilities for palliative care in South Australia. 
This incredible Golf Day is supported by our Patron Jenny Hurley and a fantastic committee, major sponsors Coopers, CUB and West End and by many generous businesses and individuals who sponsor holes, register teams, donate wine, auction items, prizes and their time. 
The sixth 'Chip in' event was held on Friday 20 October at Grange Golf Club and its outstanding success gave an opportunity to reflect on the outcomes of this event over the last six years.
The first 'Chip in' Golf Day in 2012 was organised by Jenny Hurley to raise funds for a capital campaign that saw St Helen's Oncology ward at Calvary North Adelaide Hospital extended and renovated with much needed improvements to facilities.
After the success of this event, Jenny established a committee to raise money to upgrade the Mary Potter Hospice.
In 2013, the Mary Potter Hospice received a brand new kitchen which is freely accessed by patients and their families. The staff in the Hospice and the Foundation could never have imagined how valued this family kitchen has become.
A beautiful garden and outdoor space was developed with funds raised at the 2014 Golf Day and patients and visitors are often spotted enjoying the fresh air and having a moment of peace and reflection in the garden.
The 2015 'Chip in' replaced all of the joinery in each patient room. The upgrades were not only a 'face lift' for the rooms but are also practical and well used.
The Mary Potter Hospice has seen tremendous improvements as a result of the Golf Days and continues to receive funds for patient care.
In 2016, a decision was made to help establish palliative care facilities in regional South Australia. It became obvious that the wonderful facilities and environment at the Mary Potter Hospice was not available in country areas. It was also important for patients and their families to be able to stay close to home rather than coming to the city. The 'Chip in' committee and The Mary Potter Foundation Board decided to use some of the funds from the Golf Day to develop a palliative care suite at Keith and District Hospital.
The Keith community is so grateful and the unit will make a difference to the comfort and care for patients and families.
The sixth 'Chip in' Golf Day was the most successful to date raising an outstanding $110,352. As a result, a much needed lounge for families of palliative patients will be built at Ardrossan Community Hospital and the remaining funds will continue to provide care in the Mary Potter Hospice.
We hope that everyone who has been involved over the past six years feels proud of these incredible results.
Thank you.

Players on course at Grange Golf Club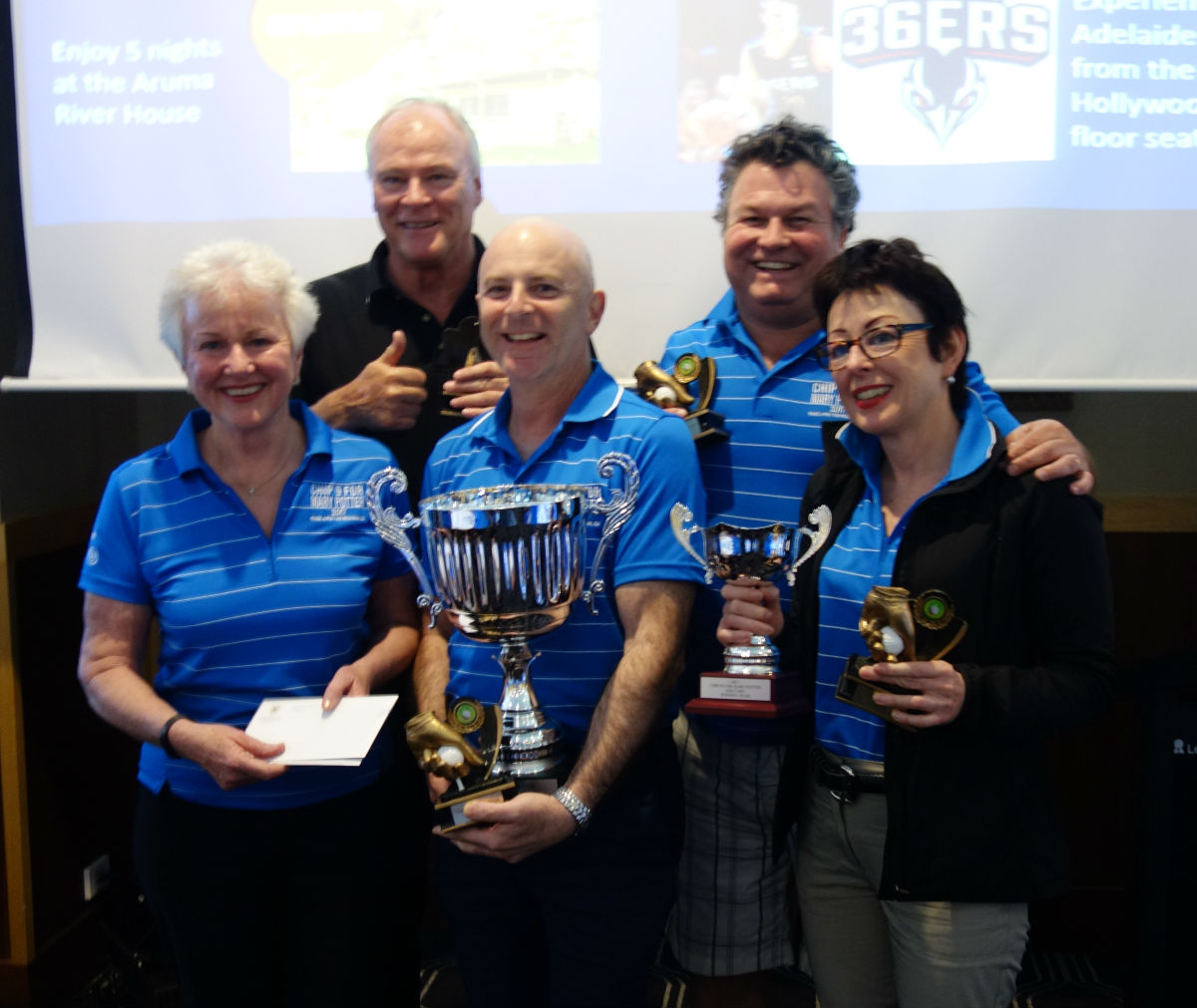 Patron of The Mary Potter Foundation, Jenny Hurley (left) with the 2017 Chip in for Mary Potter Golf Day winning team - Ouwens Casserly Real Estate