October e-news: Some prawns, a few beers, one Christmas tree and a family full of love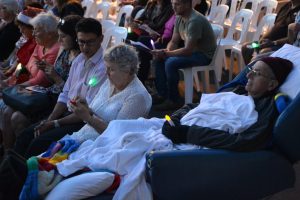 "I will never forget what Mary Potter did for my father and for my family. But I can't help but think of all the people who are now like we were – going to be in the Hospice this Christmas. I will always give a gift to the Loving Tree at Christmas to help these people" said Leanne.
Leanne's father Laurie lost his battle in the Mary Potter Hospice on Christmas day 2014.
No-one expected Laurie to spend three months in the Hospice, but he did.
As time was drawing closer to Christmas it was clear that the tradition of a big family party would not be possible this year.
Laurie's nurses and the volunteers picked up how important Christmas was to this family. So a proposal to celebrate Christmas early was suggested to Laurie & his wife Marcia. They loved the idea so the Foundation got to work, to make this happen.
Even though Laurie's health was slipping, a Christmas party for all his family was held in the Hospice a few weeks before Laurie died.
Thanks to donations to the Loving Tree we were able to provide platters of food, lots to drink, a Christmas tree and gifts for Laurie to give to all the children. It was a special day and one the family will never forget.
Marcia admits that since losing Laurie, Christmas is no longer the same. She misses him every day and especially on Christmas Day.
But Laurie's family decided to start a new tradition. Now they keep Christmas day a quiet affair with just their immediate family. And just like they did in the Hospice, the gathering of their extended family is now held a couple of weeks before Christmas Day.
"We had such a great party in the Hospice, it is a memory I will keep forever. We were given the Christmas tree from Dad's party and each year when I switch the lights on I will remember Mary Potter and the angels who cared for us" said Leanne.
Marcia has nothing but praise for the care of Laurie and for her whole family.
"It wasn't just about the Christmas Party. Everything was wonderful. Laurie loved the chapel; he visited it every day until he could no longer get out of bed. He did some art work for the grand kids, and we both enjoyed the massages. He even like the cat that came to visit. But the best thing about the Hospice was that he felt safe there.
I remember bringing Laurie home on weekends and one time with my sons Tim & Paul, we took him to his boat club for an outing, but all he wanted to do was go back to the Hospice. Thank you for making him feel loved and safe" said Marcia.
Three families lost their loved one in Mary Potter on Christmas Day 2014.  A big thank you to the Sciberras family for being one of those families willing to share their story with us.