January e-news: A story of love and devotion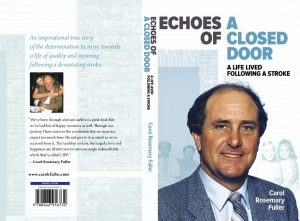 Most of the patients who come to the Mary Potter Hospice, thankfully have at least one primary carer who has walked their journey with them.
But there is little understanding in our community of what carers go through and the challenges that they face.
For this reason and as a loving tribute to her husband Clive (who was in Mary Potter back in 2012), Carol Fuller decided to put pen to paper to write a book about not only her husband's health issues but the impact this had on her and their family over a period of 20 years.
To read a summary written by Carol or to obtain details on how to order a copy of her book ''Echoes of a Closed Door', please click here.
Whilst this book is telling the story of one family, it is a stark reminder of how difficult life has been for so many patients and carers before they come to Mary Potter. We would like to acknowledge the struggles and sacrifices made every day by carers to support a loved one with a life-limiting illness.
If you are a carer or have been one, thank you – you are amazing!