Michael arrived in Adelaide from regional SA knowing that he had a life limiting illness and also knowing that he was completely alone. This is his story and the Mary Potter Care experience made possible by our generous and caring donors …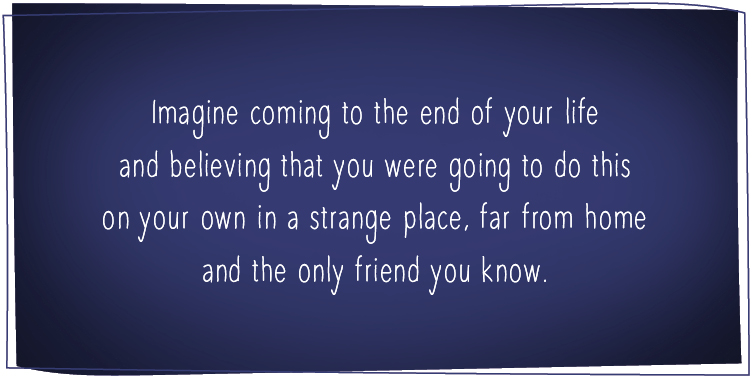 Michael came to the Mary Potter Hospice earlier this year aged 61 years old. He was a shy man and enjoyed a pretty simple yet isolated life working on the land. You could say he was really a loner as he had only one best mate who lived some 300 kilometres away and apparently no family.
When Michael arrived in the Hospice it was for treatment of his symptoms. At that point, he had been robbed of his appetite because of the pain he was suffering.
Thankfully, with the medical team on the job, his pain was controlled and with that gift he briefly found his appetite again.  The led to a special order for a hamburger with the lot which was devoured with great gusto and followed by the lunch he had already ordered from the hospital menu.
It also turned out that Michael had quite the sweet tooth and he received a supply of some of his favourite foods – snakes, jelly babies and jubes along with salt and vinegar chips.
A special walking frame was hired at the request of the Hospice physiotherapist, Teresa, who knew how important it was to Michael to keep moving and being on his feet.
Michael walking around the Hospice in a hospital gown soon became a regular sight and at times there was definitely more of him on show than expected! What was soon discovered by Sue, the volunteer team leader, is that Michael had arrived in only the clothes he wore so there were no pyjamas or a change of fresh clothing and he had to wear the gown.
So one of our Foundation team members, Lorna, headed out to Target for some items of clothing.  The simple gift of pyjamas, t-shirts and shorts made Michael feel like he had won the lottery.  With his choices in life shrinking, he found joy through the simple pleasure of choosing what he would wear each day.
Using his own money, Lorna was also able to pay Michael's bills so he didn't have to worry about the power being turned off at home.
Now there was something very special happening to Michael because Mary Potter Care is different.
Arriving in the Hospice without close friends or family, Michael was a loner and trust was not something he gave easily. But over time he did come to trust the team caring for him from Sue, the volunteers, the doctors and nurses to Teresa and Sigourney the Social Worker.
This trust enabled Michael to ask not to be alone at times. The volunteers and staff would rotate to sit with him. Not to talk but just to sit still, in silence and hold his hand. There were moments of feeling afraid and just knowing that someone was there made all the difference.
His closest friend was spending whatever time he could with Michael and it was becoming obvious that time was running out.  His friend let the Hospice team know that Michael's family did not know he was dying.  For some reason, Michael had chosen not to share this with his mum and dad – visits over the years had not been frequent and conversations generally brief.  What happened next is probably the most beautiful gift of all.
Michael's mum and dad were contacted and within hours his mum and sister arrived from interstate. Before Sigourney left the Hospice that day and it looked like Michael was going to die she took his hand and told him that his mum was on her way.  What followed was a gift for which Michael's mum will always be so grateful.
After not seeing Michael for eight years, when she entered his room that night even though Michael was not able to say much he said 'mum' when she leant over his bed. He never spoke again beyond that initial recognition that his mum was with him.  Michael lived for three more days – days that gave his mum and sister the chance to sit with him, to hold his hand, to sleep in his room and for his mum to be there when he took his final breath.
Michael's mum also took the opportunity to talk with staff and volunteers who had come to know her son while he was in their care.  Together everyone helped to fill some of the gaps from years of his life.
We hear time and time again, that there is something different about Mary Potter Care which completely changes the experience. Michael's story is just one example of this. We thank all of our donors who make Mary Potter Care possible.