Being in the 'right place'
"You come to know that this is the best experience for your loved one. We had time to just love Mike and be with him and do the things he wanted to do.  And I had the opportunity to just be his wife."
The Christmas turkey had already been bought when Sharyn learned that her husband Mike would need to come to Mary Potter Hospice.
It was just after his 55th birthday in December 2017 and they had hoped to have their last Christmas at home.
Instead, only hours before Mike was admitted, Sharyn came for a tour of the Hospice. She needed to be sure that Mike was coming to the right place.
Her first impression was the smiling staff.  After being in another hospital she noticed immediately that the Hospice was different.
Sharyn was told that they could "reinvent Mike's room".  And they did, filling his room with birthday cards, artwork, family photos and pictures from their travels.  Mike's much-loved dog Mishkar became a very important visitor.
As Christmas was only days away, the family made a plan to bring their Christmas celebration from Sharyn and Mike's home to Mary Potter Hospice.
Christmas Eve champagne was shared with Mike's dad Graham, son Austin and sister Jodie. It was followed by a special festive lunch done their way in the courtyard garden.
Jodie and Sharyn's sister Michelle put together a fabulous Christmas spread for everyone. Sharyn remembers raiding the Hospice family kitchen for crockery and glasses while Michelle grappled with the microwave.
Most importantly, the family was together on Christmas Day just as they planned.
What followed was another three weeks of moments of unexpected care for Mike and Sharyn at Mary Potter Hospice.
Being able to be with Mike 24/7 was really important to Sharyn and having his close family around helped Mike to feel much more comfortable.
Sharyn really appreciated the massages and manicures she and Mike received from complementary therapists Rose and Karen.
On New Year's Eve, Mike and Sharyn shared French champagne with Sharyn's brother and sister and their families, followed by a little trip across the road to the golf course for a front-row view of the fireworks.
Sharyn loved being able to just 'switch off' sometimes. She could concentrate on a jigsaw in the puzzle room and also found comfort in talking to others who understood what she was going through.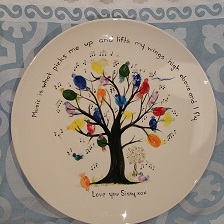 Mike made some beautiful ceramic artwork for his family with help from Lesley at Fra Angelico Creative Arts. He joked with Lesley and Sharyn about how long it had been since he last finger-painted at six years old. Mike loved creating these precious ceramics to give as treasured birthday gifts to his family.
Mike was a huge fan of Foo Fighters, and had tickets for their concert in Adelaide on January 23.  When it was obvious that Mike wouldn't be well enough to get there, Hospice volunteers helped Sharyn plan the next best thing.
The Hospice gave Mike a framed photo montage of the Foo Fighters. Then the lights were turned off in his room and fairy lights strung up.  With an acoustic CD playing, Mike had his own special Foo Fighters mini-concert.
Sharyn knows beyond doubt that Mary Potter Hospice was the right place.  She told us that during that time they were as happy as they could be and they felt loved.
"You come to know that this is the best experience for your loved one. We had time to just love Mike and be with him and do the things he wanted to do.  And I had the opportunity to just be his wife."
We are so grateful that Sharyn allowed us to share her story.