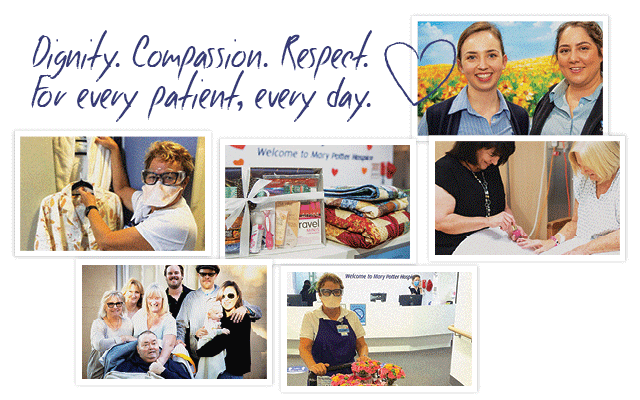 "You don't get this anywhere else," said Rebecca*.
Her father didn't want to come to Mary Potter, he wanted to die in his home, supported by the Palliative Home Care Service.
Although he did have great support at home, it was becoming more challenging for his family to give him the level of care he needed to be comfortable.
At first resistant to the idea, he came to accept that he couldn't remain at home and plans were put in place for him to come to Mary Potter Hospice.
Within half an hour of arriving, he told his wife and daughter, "I love it here. I didn't expect this, they've treated me like a king".
Rebecca appreciated that her dad was welcomed by name when they arrived.
"His nurse showed us to his room which was so warm and inviting, with a Welcome Pack from the Foundation waiting on the cupboard. You guys are amazing at what you do. Then a volunteer brought him a trolley full of quilts so he could choose the one he wanted. You have managed to make him feel like he was at home — you don't get this anywhere else".
Such a simple yet powerful reflection to describe the level of care provided at Mary Potter Hospice.
It is true — you don't get this anywhere else. And that's thanks to people like you.
Do you know what enables Mary Potter to exceed expectations and offer a level of care that is unmatched?
It is support from the community.
From individuals and families like yours, who have experienced the care and want to ensure that future families will get the same opportunity for someone they love.
*Name changed for privacy reasons
Your support would mean the world to us and to our patients.
Today, you're invited to make a donation, so that a patient and their family can receive loving care, filled with dignity and compassion.
Please consider a gift to Mary Potter Hospice, Mary Potter Supportive Care Unit and Palliative Home Care Service.