Thank you for supporting calm and contented living to the end
When our treasured Mum was diagnosed with pancreatic cancer we thought we may be able to look after her at home to the very end.  Five months later, when infection control and pain management became more difficult, she was admitted to Mary Potter Hospice.
Having been with her every step of the way we were worried about handing her care to others. However, within hours of her admission, there was a collective sense of relief and confidence in her new carers.
We returned to being loving daughters rather than loving, primary carers, thanks to the extraordinary doctors, nurses and volunteers.
Our dear Mum, over the next eight weeks was surrounded by expert care, love and calmness, for which we will always be grateful.
Every patient on arrival in Mary Potter, is given (to keep) a most beautiful hand-made quilt; such a warm welcome thanks to charitable quilters, and an early sign that this Hospice was far more akin to being at home, than in a hospital. Our Mum, a lifetime sewer, was thrilled. She studied that beautiful quilt marvelling at the way it had been made and so expertly finished.  It gave her enormous pleasure.
Mum actually rallied in her first two weeks at Mary Potter.  She was relieved to be there - for us. It proved to be a wonderful facility focussed on 'living', comfort and care for the whole family.  It was so much more than we had anticipated.  
There was an array of comforts provided - manicures, pedicures, soothing massages, a hair dresser, music, encouragement to bring in family pets; indoor and outdoor places to sit or be wheeled.  An excellent menu was provided for our Mum, we were also catered for. These additional services and opportunities helped our Mum and us, to continue to 'live', be positive and feel supported – despite the overwhelming sadness.
The medical and nursing care was at the highest possible level - always with consultation, sensitivity, compassion and great expertise. The volunteers cheered us up daily.
We continue to feel so grateful our lovely Mum was cared for at Mary Potter – and that we saw first-hand, what an outstanding and re-assuring place it is. 
We cannot thank the Foundation enough for the services they provide. They allowed calm and contented living to the end.
Because of you, Mary Potter Care was given to Carolyn, Prue, Erica and their beautiful mother, Judy.
Your donations provided this family with a loving, memorable experience at an incredibly difficult time and we are so grateful.
Your continued support will ensure this care is available to other families in future. Please consider making a gift today.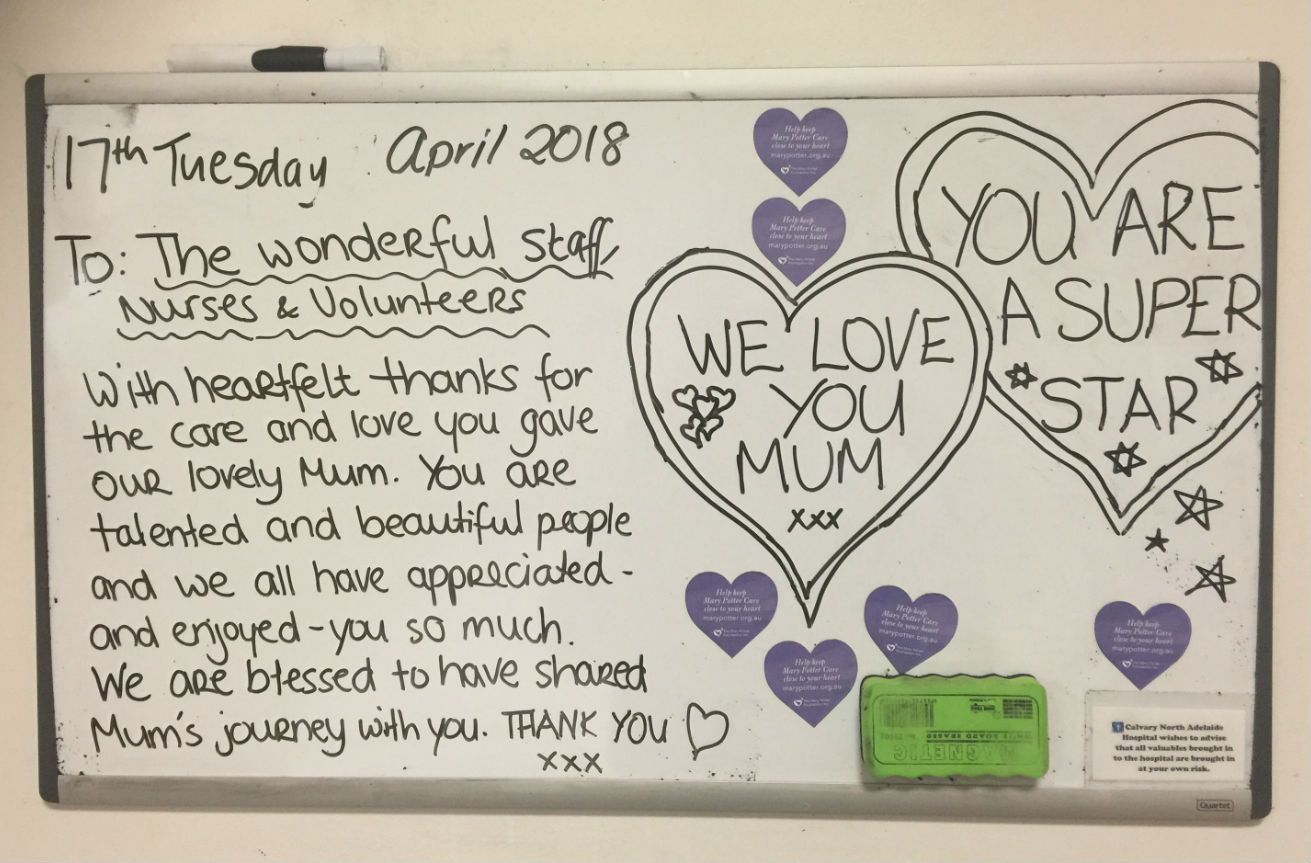 This lovely note was left on the whiteboard in Judy's Hospice room.